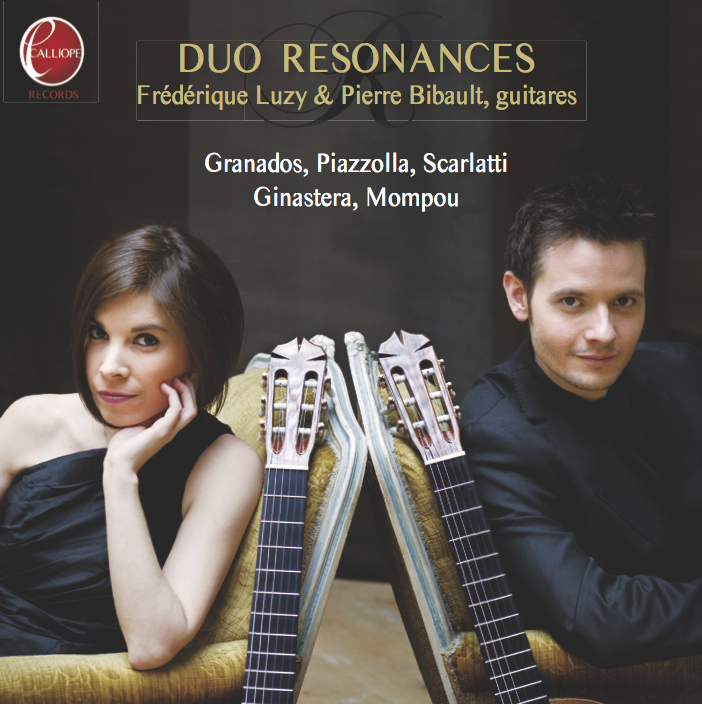 Duo Resonances: Granados, Piazzolla, Scarlatti, Ginastera, Mompou
Frédérique Luzy & Pierre Bibault
Buy the album: Duo Resonances via Amazon
Artist Website: duoresonances.com
Label: Calliope Records
Art Direction: Cécile Lenoir
Recording: Dada Studio, Brussels (BE)
Mastering: Thomas Vingtrinier, Sequenza Studio, Paris (FR)
Photos: Jean-Baptiste Millot
Texts: Philippe Cathé
Repertoire:
Alberto Ginastera (1916–1983): Suite da Danzas Criollas Op. 15
Federico Mompou (1893–1987): Cançons i Danses (No. 2, 5, 6)
Domenico Scarlatti (1685–1757): Sonatas K. 308, 9, 430
Enrique Granados (1867–1916): Valses Poéticos
Astor Piazzolla (1921–1992): Tango Suite
The debut album of the French guitarists, Duo Resonances (Frédérique Luzy and Pierre Bibault) is a superb release through Calliope Records. Devoted to arrangements of works by composers Enrique Granados, Domenico Scarlatti, Alberto Ginastera, Federico Mompou, as well as Astor Piazzolla's Tango Suite. The album is a nice mix between the Spanish and South American vibe but with pieces that have some solid compositional weight and interest to both general listeners and professionals. The playing is beautiful with clear bell-like tone and spectacular recording quality.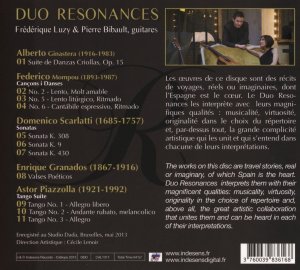 Of special interest was the Ginastera and Mompou, both originally for piano. These are beautifully played and abound in guitaristic effects but always connected to musical ideas appropriate to the works. The playing ranges from refined and expansive pacing to very intricate and virtuosic ensemble playing. The Scarlatti has some excellent ornamentation and wonderfully worked out directional phrasing. The ensemble work, playing, and arrangements are all outstanding.
The Piazzolla has some grit and plenty of interesting rubato and articulation. It is certainly the track that is the most raw compared to the other very polished and worked out performances. The friction and tension between the two parts is very well communicated and sometimes quite surprising. A very improvisational approach but it works well! There are a few moments in the first tango where the ensemble rhythm felt to be slightly off. I thought they might have either gone too far with the accents or maybe didn't pull it off. I watched their YouTube video and it was good so thought this a little odd. However, it comes off as being rustic and exciting rather than troubled. This work has been recorded so often that I almost didn't want to hear it again but their approach was fresh and new so I enjoyed it a good deal. Loved the strong accents on the last movement as well as the extreme dynamic contrasts. There is some outrageously well worked out ensemble work at the end of the third tango! I ended up smiling quite a bit because the energy was so high. I highly recommend you hear this.
Conclusion:
The excellent playing, great repertoire, and spectacular recording quality make this a first-rate album. I found myself surprised at how fresh and exciting the performances were which rarely gets communicated on recordings. The playing is super refined at times but they turn it all around and give some raw grit and explosions of extroverted energy that I always love to hear from guitar. The ensemble work is top-notch with some of the material highly worked out and executed. Duo Resonances is certainly a very exciting guitar duo concertizing and now recording. I was very glad to receive this album and look forward to exploring more of this group either live or through their website.
Buy the album: Duo Resonances via Amazon
Artist Website: duoresonances.com