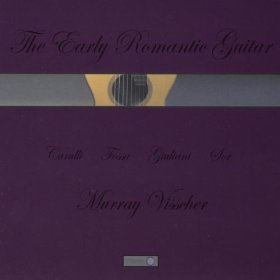 The Early Romantic Guitar
by Murray Visscher, 19th Century Guitar
Titania, 2010
Repertoire:
Francois de Fossa (Op. 12, Cinquième Fantasie sur l'air des Folies d'Espagne)
Mauro Giuliani (Op. 33, 12 Ecossoises) & (Op. 102, Introduction et Variation )
Ferdinando Carulli (Op. 241, Selections)
Fernando Sor (Op. 12, Quatrième Fantasie)
This recording features the music of Ferdinando Carulli, Francois de Fossa, Mauro Giuliani and Fernando Sor. All selections are played on an instrument built by luthier Marcus Dominelli, based on measurements from a 19th century guitar built by famed French luthier Rene Lacote, c.1830. The recording was recorded, mixed and edited by Ralph Maier in the Joyce and Quentin Doolittle Recital Hall, University of Calgary.
Listen to samples or buy via Amazon: The Early Romantic Guitar (Visscher)
This review was previous published on Classical Guitar Canada in January, 2011.
It is with great pleasure that I'm reviewing this new release by Canadian guitarist Murray Visscher. When I first came to Victoria in 2000 I had no professional training in classical guitar and Murray was the teacher that showed me much of my foundational skills on classical guitar. I've also had the pleasure of performing with Murray in recent years in ensemble projects and hearing him perform in the well known Oberon Guitar Trio.
Also note the instrument used which was built by Victoria, B.C., luthier Marcus Dominelli, based on measurements from a 19th century guitar built by famed French luthier Rene Lacote, c.1830.
Francois de Fossa (Op. 12, Cinquième Fantasie sur l'air des Folies d'Espagne)
When you hear de Fossa on 19th Century guitar it sounds much more at home. All the things we struggle with on modern guitar fade away in the more docile tones of this Locote replica. The more uniform texture is consistent and smooth. The recording itself is very warm and the mic placement sounds great despite some authentic string squeak here and there. This is a set of beautiful variations on Folies d'Espagne that far surpasses the other versions that I'm familiar with such as the Giuliani or Sor. Visscher shows a mature style as he tastefully navigates the various tempi and textures.
Mauro Giuliani (Op. 33, 12 Ecossoises)
We've all heard these before to some extent but have you actually heard a professional play them on a period instrument? I imagine not. So here's your chance to listen to some charming short works that you yourself might be playing. Again, these pieces sound so much better on a period instrument.
Mauro Giuliani (Op. 102, Introduction et Variation)
After warming you up with the Ecossoises he ventures into a major work showcasing a broader taste of Guiliani and Visscher's musical skills. His strength on this track is the individual attention he gives to each note. There's many types of virtuosity out there but one of the more difficult types is making sure each note is given the attention it deserves. Around 5min in there is a great moment where the melody is very isolated and guitar accompaniment interjects. This usually wouldn't be too interesting but I found myself quite drawn in.
Ferdinando Carulli (Op. 241, Selections)
As with the Giuliani, these are charming works that delight the ears. Simple but familiar in style and so well suited to the period instrument. These works are even more familiar to students of the guitar and those working through the RCM books. I sometimes forget just how well these can be performed and recordings like this one remind me that these are great period works that can be reexamined again and again despite their lack of compositional complexity. I particularly liked No. 21 Waltze for the articulation and the careful separation of the voices.
Fernando Sor (Op. 12, Quatrième Fantasie)
Classic Sor material with beautiful and simple chord progressions, Mozartean suspensions, and crisp classical rhythms. There are some nice variations in there including a very sweet minor variation that was well handled.
A charming recording filled with familiar works and rarely recorded gems. Murray Visscher's playing is a joy to listen to and the instrument by Marcus Dominelli shines with dolce tones. I would recommend this recording to students as Visscher will give you many new ideas to consider. Teachers and professional will find this worth a listen to realize that these pieces can be filled with character and charm as well as for the significant work by de Fossa. Any guitar enthusiast will love it.