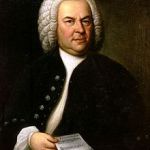 Johann Sebastian Bach (1685-1750) for classical guitar – PDF sheet music or tab with video performances and lessons. Includes both a notation-only edition and a tab edition. Although Bach never specifically wrote for the classical guitar there is plenty of evidence that he regularly interacted with lute players including Sylvius Leopold Weiss. There is documentation that they improvised fugues together and Bach even included some of Weiss's music in his works. The so called Lute Suites were most likely written on a Lute-Harpsichord instrument the lautenwerck, but the texture is reduced so it is not inconceivable that a lute would have been a possible instrumentation. Some exist in period lute tablature and it is well documented that Bach regularly rearranged his music for various instruments so enjoy exploring and interpreting his music.
My Sheet Music Editions with Videos & Lessons
Video of Bach on Guitar
---
Recommended Editions from Others (Amazon)
Bach Lute Suites (Koonce) – This collection edited by Frank Koonce features transcriptions of the complete solo lute works by J. S. Bach in a modern guitar notation. This revised second edition provides a thoughtful combination of scholarship and practical performance solutions. It includes not only historical data, articles discussing aspects of baroque performance, and facsimiles of the original manuscripts, but also authoritative fingerings, interpretative remarks, and convenient foldout pages. This collection is an essential learning tool for guitar students, and a wonderful addition to any professional guitar's repertoire.
Bach Cello Suite No.1, BWV 1007 – Koonce (I-A)
6 Sonatas And Partitas For Violin BWV1001-1006 – Tadashi Sasaki
3 Sonatas for Guitar Solo – Manuel Barrueco, BWV 1001, 1003 and 1005
Bach Cello Suites Arranged for Guitar – Publisher's Description: "Although Johann Sebastian Bach did not write any music for the guitar, transcriptions of his unaccompanied string music and music for lute have long been a part of the guitar repertoire. Despite the respect that this music commands among musicians and audiences debate still exists as to what constitutes an appropriate means of transcribing, interpreting and performing this music on the guitar. It is this debate that prompted this long-awaited edition of Bach's unaccompanied cello suites by scholar and concert guitarists Stanley Yates. This definitive work includes performance scores, comparison scores an an invaluable 40-page guide entitled Arranging, Interpreting, and Performing the Music of J.S. Bach. Furthermore, the author offers comments on his arranging process and suggestions on using this edition including: ornamentation, slurs, fingerings, notation, and implementation of the comparison scores. Written in standard notation in guitar-friendly keys."
Violin Sonatas and Partitas, I prefer to read off the violin score Urtext edition.
Keep in mind that:
BWV 995 – Suite in G minor is a transcription of Cello Suite No. 5, BWV 1011
BWV 1000 – Fugue in G minor is a transcription from Violin Sonata No. 1, BWV 1001
BWV 1006a is a transcription from Partita No. 3 in E major BWV 1006 for solo violin
Videos Featured on the Site
Lute Suites Arranged by Jean-François Delcamp (delcamp.net)
Suites & Partitas – Arranged by Eythor Thorlaksson (classical-guitar-school.com)
Free Hans Bruger: J.S. Bach: Compositionen für die Laute (1921) – Copyright/Notes: Public Domain. Beware of mistakes and old-school keys! I would not recommend this edition but could still be useful.