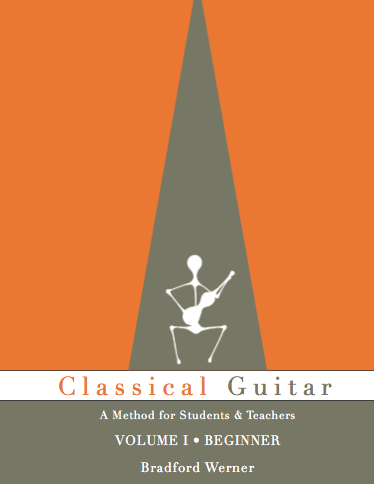 Classical Guitar: A Method for Students & Teachers
Volume I • Beginner by Bradford Werner
Available as a PDF (88 pages): FREE
This method took me a few years to build so if you're feeling generous please give a small donation. By the way, I will never-ever give out your email, I just want it to let you know about updates to the book and other free stuff.
See the video preview below!
Sign up to my newsletter to get your free copy. You'll get the download when the final confirmation email is sent. It's an easy few steps. You can unsubscribe anytime and your email is safe and never shared. I use the excellent Mailchimp Newsletter Service which is #1 awesome.
Previously known as the Guitar Victoria Method, Volume One
Already on the newsletter and want a copy? Looking for hard copies of the book?  Contact: brad@bradfordwerner.ca
Organized into Five Main Sections (88 pages)
Part I: Progressive Method
Part II: Rhythm Training
Part III: Chords and Popular Music
Part IV: Technique Supplement
Part V: Chord Progressions and Reading Supplement
Intention Students require a wide variety of material unavailable from a single source. Most classical guitar books do not include chords, blues, popular music, or the variety of teaching materials needed for modern instruction. After years of carrying around stacks of heavy books between studios I began to write out my own material. I have left out most fingerings and editorial markings to keep the material clean and ready to use by any pedagogical approach. I find this also aids students in their note recognition skills. Enjoy.
Important information about using this book This publication is not intended as a self-study method. Nearly every page is designed to give the student and teacher the raw materials for use in weekly lessons. A qualified instructor is essential as this book purposely leaves out explanatory materials, suggestions in fingerings, and technical guidelines for technique and performance practice.
How to use this book ("Super Duper" Important)
There are five sections to this book, use them simultaneously
Cover every page, especially in Section I
Do not write-in left-hand fingerings, students learn faster if they recognize the notes on the staff
Phrasing, dynamics, and articulation should be added by a teacher. I have omitted them to produce a clean score and to give opportunities for the student and teacher to work them out as a team
A note to students
1. Listen to your teacher. Even if your teacher recommends something contrary to the materials in this book, you must trust their expertise in deciding what is best for your unique development.
2. Ask questions. Your progress will depend on how well you understand the material. It's not all about practicing so ask for clarification on anything you do not fully understand.
3. Request material. No beginner book will ever satisfy all your personal interests so request material from your teacher. Do not expect to only study material you request but let your main interests be known.
A note to parents (if used with children)
1. Go with the flow. Avoid telling the student that they will "have to practice" or "you have to behave." Instead, set up a regular time of day where practice is expected; the goal is to build routine and productive habits. When something is routine, such as school or brushing your teeth, it just happens and usually does not require much maintenance once the routine is established.
2. The lesson. Parents are around too much (as far as kids are concerned). Sorry, but your presence might distract your child during the lesson and inhibit a relationship of respect and friendship between student and instructor. This is not always the case, but important to consider.
About the author:
Bradford C. Werner
AVCM (Performance/Teaching); Diploma (Camosun); BA (History-UVic); Examiner and instructional faculty member at the Victoria Conservatory of Music; Artistic Director – VCM Summer Guitar Academy 2008-2010; VCM Collegium Chamber Coach; theory and musicianship instructor for Sound Advice plus Guitar; member of the Victoria Guitar Trio and the Quelus Guitar Duo. Bradford regularly adjudicates and judges festivals and exams in Canada.
Originally from Nelson, British Columbia, Bradford now resides in beautiful Victoria where he teaches at the Victoria Conservatory of Music and works as a freelance musician. Aside from managing a studio of thirty classical guitar students he also coaches ensembles and regularly adjudicates festivals and exams. Many of Brad's students have won first prize in the Greater Victoria Music Festival and the BC Provincial Competitions.
Bradford mainly studied with Ron Mulvey, Murray Visscher, Stephen Boswell, Wes RD Waggett, and Alexander Dunn. He has also studied in masterclasses and at festivals with Paul Galbraith, Roland Dyens, David Tanenbaum, Pepe Romero, Adam Holzman, John Schneideman, Michael Partington, Ron MacFarlane, Ana Vidovic, Jeremy Jouve, Thibault Cauvin, and many more.
Bradford is an active member of the Quelus Guitar Duo and the Victoria Guitar Trio with Michael Dias and Adrian Verdejo. The trio is currently focusing on new music as well as traditional works and booking tours in Canada and abroad. The Quelus Duo is currently booking concerto performances with orchestras and performing a full duo programme. Bradford is editor and owner of Classical Guitar Canada (www.classicalguitarcanada.ca), a blog which documents the Canadian guitar scene with the help of a growing number of contributors. he also edits this is classical guitar (www.thisisclassicalguitar.com), and international site for classical guitar.  Bradford's Personal Website: www.bradfordwerner.ca
---
A little bit more about Bradford,
I began teaching in Victoria privately in 2002. A couple of years down the road I became a student teacher at the Victoria Conservatory of Music. I quickly built up a studio of young students and older enthusiasts. As a student teacher I had a limit to the number of students I could accept so I approached the late Dr. Walter Mony ( my department head at the time) requesting permission for more students. He suggested I become a full faculty member and with the additional recommendation of my teacher at the time, Alexander Dunn, I was hired as instructional faculty at the Victoria Conservatory. Since then I have coached ensembles such as the VCM Guitar Orchestra, Sound Advice theory, Collegium, and more.
In recent years I was the director for the Summer Guitar Academy 2008-2010, a member of the Dean's committee, and have become in demand as an adjudicator at local and provincial level festivals in Canada. Additionally, I examine for the Victoria Conservatory of Music examination system and for the Camosun College diploma program. I'm often hired based on personal recommendation and because of my willingness to spend extra time with students and community members at all levels. I've also entered the self-publishing industry – you can see my books here – and the blogging business with thisisclassicalguitar.com, classicalguitarcanada.ca, and the practicingmusician.com. If that wasn't enough, I've kept myself busy completing a history degree with a focus on Asian history at the University of Victoria.
In addition to teaching I'm an active performer. I play in two main groups: the Victoria Guitar Trio with Michael Dias and Adrian Verdejo and the Quelus Guitar Duo with Michael Dias. I'm also currently working on a solo program for classical guitar and a number of works for electric guitar.
I've also become a proud teacher of many great students. I teach all ages and levels but have had great success with teenage students. I've also been able to build a complete classical guitar studio by allowing the freedom of multiple styles on the nylon string guitar. I also really believe that students need the opportunity to get employment from their hard work (what could be better, the enjoyment of music and to get paid for it – $100/hour is better than flipping burgers!). I have encouraged and helped many of my students get set up to play gigs in Victoria.
My students have won many awards, you may want to check out my student showcase.